A win, or a draw, against the European side ranked number eight in the World, will send the Australians into the Round of 16 at the competition for the first time in their history, whilst even a narrow defeat may prove enough depending on results elsewhere.
If it is to be the latter outcome, the Futsalroos would have a nervous wait for 24 hours as the final pool matches are played in Groups E and F to ultimately discover what their fate will be.
However, for Coach Rob Varela and his team it's the victory that they are aiming for in order to leave their destiny in their own hands.
"There is no doubt that Ukraine will prove to be a difficult opponent," Varela said.
"However, if we do the good things that we did against Brazil well, and create as many opportunities, then we can get the result.
"It would mean a great deal for this group to get through to the Round of 16. If we had been offered this situation before the tournament began, be one game away from a place in the knockout round, then we would have taken it.
"It's up to the players to go out onto the court, believe in themselves, and play the best forty minutes of Futsal that they can. If they do that, then I truly believe we can get the positive result we need for progression."
Ukraine went down 1-3 to Brazil in their opening match but was then fortunate to defeat Mozambique 4-2 and will be without their captain, and number one goalkeeper, Ievgen Ivanyak, sent off in the match against the African qualifiers for hauling down a Mozambique forward.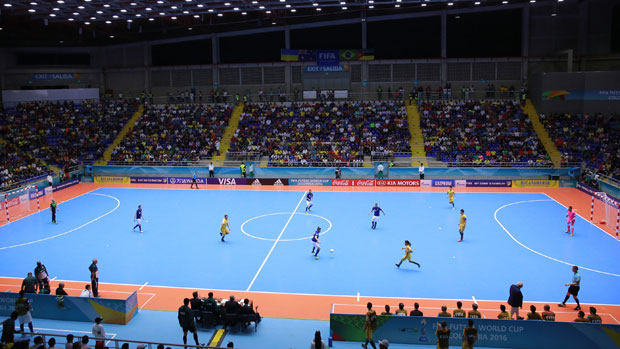 Ukraine breezed through European qualifying winning all three of their group matches and thrashing Slovakia 11-1 over two legs in the play-off series.
The teams have meet in the FIFA Futsal World Cup Finals once before, way back in 1996 in Murcia, Spain, where Ukraine emerged victorious on their way to a fourth place finish.
Their danger man could well be Mykhailo Grytsyna who, despite ostensibly being named as a defender by FIFA.com was the team's five-goal top scorer during qualifying.
Not afraid of a shot, they racked up 142 in their first two matches, the Futsalroos will need their trio of goalkeepers Peter Spathis, Angelo Konstantinou and Roberto Maiorana to be in top form in order to achieve success.
FUTSALROOS SQUAD
1. Angelo KONSTANTINOU, 2. Adam COOPER, 3. Jarrod BASGER, 4. Gregory GIOVENALI, 5. Blake ROSIER, 6. Wade GIOVENALI, 7. Tobias SEETO, 8. Jonathan BARRIENTOS, 9. Christopher ZEBALLOS, 10. Daniel FOGARTY, 11. Dean LOCKHART, 12. Roberto MAIORANA, 13. Shervin KESHAVARZ ADELI, 14. Peter SPATHIS
BROADCAST DETAILS
Australia v Ukraine is Live on SBS TV and Optus Sport on Sunday 18th September, coverage starts at 6.50am