The semi-finalists of the AFC U-16 Championships – beginning on September 15, 2016 - will go on to qualify for next year's FIFA U-17 World Cup which will also be held in India.
The squad, selected by Joeys head coach Tony Vidmar, is made up of 15 players based at the FFA Centre of Excellence, six players from Hyundai A-League clubs, and two from PlayStation 4 NPL clubs.
18 of the 23 players selected were part of the squad that won the 2016 AFF U-16 Championship last month.
With that experience behind the Joeys, Vidmar said there was no reason his side could not go on and win the AFC U-16 Championships.
"In terms of what we want to achieve, of course we want to qualify, but that's not enough," Vidmar said.
"We haven't won an AFC Championship at the youth levels yet, so let's do it now."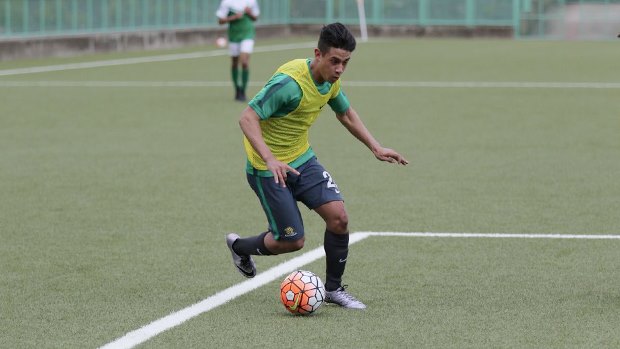 During the group stage of the 2016 AFF U-16 Championship, the Joeys placed second in their group with three wins, a draw, and a loss which was enough to progress to the knockout stage.
The knockout stage saw the Australians take home the title after two wins on penalties against Thailand and Vietnam.
It is the character shown by the Joeys that proves to Vidmar that this side is a potential title-winning side.
"This team has already proven its ability to win big games," Vidmar said.
"In the final of the U-16 AFF Championships, we were down 3-1 with 10 minutes to go, but we kept doing our jobs.
"We didn't get frustrated, we didn't panic. We believed in the game plan, in what we're doing, and went on to score twice to take the game to penalties.
"We are looking forward to the challenge of taking on the best in Asia; as always we will not make any compromises in the way we pay."
Over the course of that tournament, the Joeys scored an average of 3.8 goals a match, highlighting the attacking brand of football that Vidmar and FFA U-16/U17 technical director Peter de Roo wanted to instill in the youngsters.
"In the last few years, the expectations for the Joeys have gotten higher, and that's good," de Roo said.
"It means that we actually have achieved something over the last few years.
"And the players and staff's expectations are even higher than that of the general public."
The Joeys kick off their AFC U-16 Championship campaign against Kyrgyzstan on Friday 16 September, before their second match against Vietnam on Monday 19 September. The final match of the group stage will be on Thursday 22 September against Japan.
An announcement on the streaming of matches will be made ahead of the opening match against Kyrgyztsan.
2016 AFC U-16 Championship
Joeys v Kyrgyzstan           
Friday 16 September 2016
GMC Stadium, Bambolim, India
Kick-off: 4pm local (8.30pm AEST)
Vietnam v Joeys           
Monday 19 September 2016
GMC Stadium, Bambolim, India 
Kick-off: 8.00pm local (12.30am +1 AEST)
Joeys v Japan           
Thursday 22 September 2016
GMC Stadium, Bambolim, India
Kick-off: 4pm local (8.30pm AEST)  
Joeys squad for 2016 AFC U-16 Championship
 

NAME

CLUB

1

Nicholas SUMAN

Western Sydney Wanderers FC, AUS

2

James FLETCHER

FFA Centre of Excellence, AUS

3

Dylan PIERIAS

Melbourne City FC, AUS

4

Kaleb COX

FFA Centre of Excellence, AUS

5

Joel KING

FFA Centre of Excellence, AUS

6

Adrian VIGGIANI

Western Sydney Wanderers FC, AUS

7

Jacob ITALIANO

FFA Centre of Excellence, AUS

8

Ramy NAJJARINE

Western Sydney Wanderers FC, AUS

9

John ROBERTS

FFA Centre of Excellence, AUS

10

Lachlan BROOK

FFA Centre of Excellence, AUS

11

Mirza MURATOVIC

FFA Centre of Excellence, AUS

12

Jordan GRIFFITHS

FFA Centre of Excellence, AUS

13

Thomas AQUILINA

Western Sydney Wanderers FC, AUS

14

Rahmat AKBARI

FFA Centre of Excellence, AUS

15

Patrick SCIBILIO

FFA Centre of Excellence, AUS

16

Ben OBST

FFA Centre of Excellence, AUS

17

Louis D'ARRIGO

FFA Centre of Excellence, AUS

18

Jackson LEE

Perth Glory FC, AUS

19

Mark MORIC

FFA Centre of Excellence, AUS

20

Bryce BAFFORD

FFA Centre of Excellence, AUS

21

Adrian VALENTI

Marconi Stallions FC, AUS

22

Jaidon SELDEN

FFA Centre of Excellence, AUS

23

Fabian MONGE

Marconi Stallions FC, AUS