Ange Postecoglou's side must be the South American powerhouses to keep their faint hopes alive of progressing to the semi-finals.
Group B state of play at Confeds Cup
And while three points is the main goal at the Otkrytie Arena, Kruse knows a consistent performance across the entire match will be key to Australia's hopes against Alexis Sanchez and co.
CONSISTENCY THE KEY AGAINST CHILE
"We're playing really well in patches," 54-cap Caltex Socceroos veteran Robbie Kruse told FFA TV.
"We're keeping possession well and working our opponents around.
"We probably just need to be a bit more ruthless and take some chances when we're dominating," he said.
A lot of people criticise Robbie Kruse, but he is word class at making forward runs and it's already made a huge difference. 👍 #CAMAUS

— Doug Kors (@dougkors) June 22, 2017
AUSSIES WELL AWARE OF THE EQUATION
The Caltex Socceroos know exactly what is required if they are to progress to the semi-finals of the "Tournament of Champions."
"We need to win the game by two goals," explained Kruse.
"They're number four in the world, so of course it's going to be difficult.
"They're littered with world class players.
"We're still alive in the tournament, but it's going to have to be a good performance collectively and from everyone individually," he said.
Nobody's reached the semis yet ...
So how do we separate the #ConfedCup contenders? 🤔
Read our tie-breaker rundown https://t.co/SlxicPYY5B

— #ConfedCup (@FIFAcom) June 23, 2017
HECTIC SCHEDULE TESTS SOCCEROOS
The playing and travelling timetable for the Caltex Socceroos has been extremely taxing, with the side moving from Saint Petersburg to Moscow for their final pool match.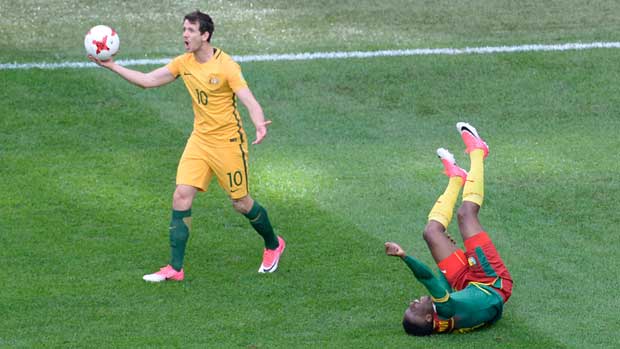 The game kicks off less than 72 hours after the final whistle in the Cameroon clash.
"It's very demanding," Kruse admitted.
"Some players have had to play two full games and it's very demanding for them.
"I'm sure the boss and the coaching staff will assess everything.
"Hopefully the team we put out on the park will get the job done," he said.
Cahill happy with 'big point' against Cameroon
This article was originally published at: http://www.socceroos.com.au/article/robbie-kruse-caltex-socceroos-chasing-complete-performance-against-chile/9rnukn6agq21b60c3hvuxtyd.