After Round 15 of the 2015/16 Hyundai A-League season, Melbourne City are on a goal-scoring run that could lead to one of the most prolific seasons for a club in Australian national league history.
City has scored 37 goals in its first 15 games - the highest scoring first 15 games in an Australian season for almost two decades.
In 1996/97 Sydney United scored an equal record 43 goals in its first 15 games, a season which started with three-goal hauls in each of their first four games, and a 7-0 shellacking of one-season-wonder Collingwood Warriors in round 9.
David Zdrilic and Ante Milicic were Sydney United's top scorers at the time.
Back in 1984 John Kosmina led a Sydney City strike force that also netted 43 goals in its first 15 games; albeit it was a season where the experienced Sydney City came up against several newly-promoted clubs, as Australia's national league expanded from 16 to 24 teams after the 1983 season.
City's run of 37 goals in its first 15 games in 2015/16 puts the Melbourne club on track to having one of the most dominant goal-scoring regular seasons on record.
At its current rate of 2.47 goals per game, Van 't Schip's side would reach 67 goals by the end of the home and away season.
@MelbourneCity's 37 goals in first 15 games- will it continue & end up one of the highest scoring seasons on record? https://t.co/lqlRjURivE

— andrew howe (@AndyHowe_statto) January 20, 2016
On only three occasions since 1977 has a team scored more than 67 goals over a full home and away season.
In 2000/01 Wollongong Wolves went berserk scoring 73 goals in its 28-match season, with Sasho Petrovski (18 goals) and Scott Chipperfield (17) inflicting the most damage on the Wolves' opponents.
Its season included a 9-0 drubbing of Newcastle, a 6-2 final round win over Adelaide City, and five goal hauls against Parramatta Power and the Melbourne Knights.
Wollongong also rampaged through the 1999/2000 home and away season, scoring 72 goals in the process - Petrovski, Chipperfield and English signing Stuart Young netting 43 goals between them.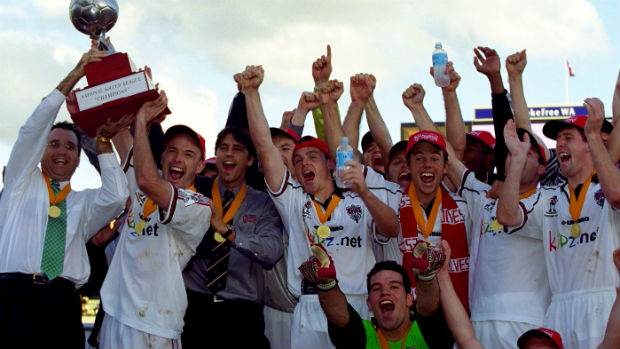 The Wolves also took out the national title in 1999/2000, sensationally coming from 0-3 down at half time in the grand final against Perth to draw 3-3 and win the match on penalties.
Wollongong's stunning exploits in 1999/2000 and 2000/01 disproved the theory that the best defence rather than the best attack wins titles.
It was no coincidence that following the departures of both Chipperfield and Petrovski in 2001, Wollongong dropped to fourth last in 2001/02 after taking out two consecutive Championships,
Back in 1982 a star-studded Sydney City team scored 68 goals in the 30-round NSL season, with John Kosmina in outstanding form collecting 23 goals over the season, well ahead of next highest scorers Jim Patikas (9 goals) and David Mitchell (6).
The forward trio, who helped Sydney City win their third consecutive NSL Championship that year, were significant Australian players of the 1980s - Kosmina with his scoring feats in the NSL and for the Socceroos, while Mitchell and Patikas went on to forge big careers overseas in an era when not many Aussies were playing abroad.
In terms of average goals per game, Melbourne City scored at a rate of 2.47 goals per game in the first 15 rounds this season.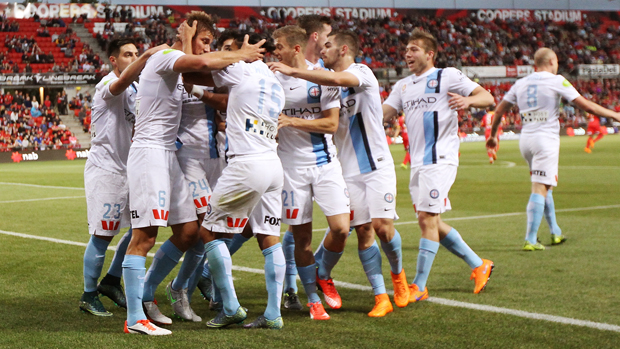 Only two teams in the history of the national league maintained a higher goals per game ratio for a complete home and away season.
Wollongong Wolves' team of 2000/01 averaged a record 2.61 goals per game over the season.
The only other side to score more than 2.5 goals per game over a full season was Sydney United's 1996/97 outfit, where David Zdrilic (21 goals) and Ante Milicic (19) tore opposition defences apart on their way to the grand final.
Unfortunately for the club neither Zdrilic, Milicic or any other Sydney United player were able to find the net on grand final day as the Brisbane Strikers got up 2-0 in the 1997 decider.
And so just after the half way mark of the 2015/16 A-League season it remains to be seen whether the rampaging Melbourne City can maintain their remarkable goalscoring form for the rest of the campaign.
Of the club's 37 goals in its first 15 games, it has been 2015/16 season recruit Bruno Fornaroli who has been the form scorer of the form-scoring team, with a dozen goals so far.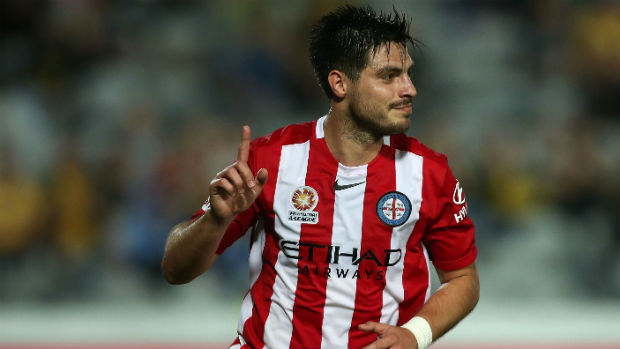 Fornaroli's name is already in the all-time record listing, having scored his first 12 Australian national league goals in the equal least amount of games.
It took just 14 games for the Uruguayan to score his first 12 goals, a feat that matched Sydney Olympic player Billy Pirie's record of 12 goals in his first 14 appearances back in 1978.
Coming in next is one Mark Viduka, who at age 18 scored his first 12 national league goals in just 15 games for the Melbourne Knights in 1993.
It has been a history-making goal-scoring season so far for Melbourne City, with a team that is already being compared to some of the best-scoring Australian national league teams and players from the past.
Will they continue to serve up the goals at such an impressive rate?
Follow Andrew Howe's Aussie football stats updates on Twitter @AndyHowe_statto
This article was originally published at: http://www.a-league.com.au/article/stats-analysis-melbourne-city-on-track-for-67-goal-a-league-season/52cl7n4u0xvi198atp9yt7rmn.