Head here for Sydney FC's official website
WHAT YOU NEED TO KNOW
*Townsend officially starts at the Sky Blues on October 7, taking over the role from Tony Pignata.
*His most recent role was as Global Managing Director of Nielson Sport, working across areas of the sports industry like the NBA, NFL, English Premier League, Bundesliga and La Liga.
*He was a co-founder of sports intelligence agency Repucom, a pre-eminent sports consultancy firm working with leading football clubs in Europe, Asia and the United States.
*In 2015, Townsend was recognised by the Sports Business Journal as one of the 40 most influential global sports executives under 40. 
*Townsend played in the old National Soccer League with both Parramatta Power and Sydney United, winning an NSL premiership at United in 1999.
CONFIRMED | We've appointed leading sports executive Danny Townsend @drt15 as our new CEO! Read - https://t.co/TtAmmSMQBa #SydneyIsSkyBlue pic.twitter.com/vwyufyd6A1

— Sydney FC (@SydneyFC) August 22, 2017
TOWNSEND EYES 'NEXT LEVEL' FOR FC
"Sydney FC is a club with a massive amount of growth ahead of it and I am excited to help achieve that. I am a born and raised Sydneysider with a passion for football and I am very proud to be Sydney FC's new CEO," he said. 
"Sydney FC is a financially stable, family club with the most dedicated, passionate and creative members in Australia, and I am confident we are entering a new era for the Sky Blues.
"We have an exciting season ahead of us this year as we look to win back to back titles, and challenge for the AFC Champions League crown."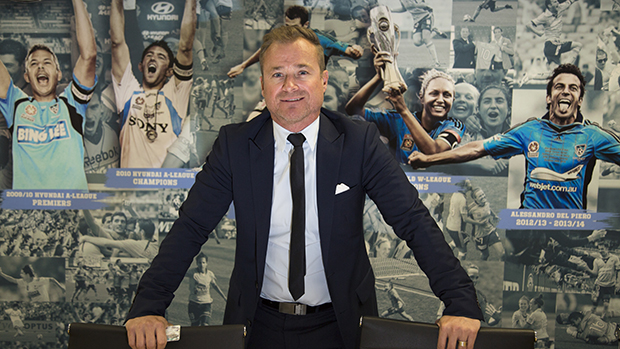 BARLOW DELIGHTED TO GET HIS MAN
"Danny is a first-class appointment with the experience and background to help drive our club to the next level," Sydney FC Chairman Scott Barlow said.
"Our club has achieved impressive growth and success in recent years but there is no doubt most of our growth is still ahead of us. We believe Danny is the right person to help us maximise our huge potential over the coming years.
"Danny has a track record of success internationally with excellent links in the football and corporate world but he also understands the Sydney sporting landscape."
This article was originally published at: http://www.a-league.com.au/article/sydney-fc-appoint-danny-twonsend-as-new-ceo/1moylmrvmup8p1n67bqqgifdht.