Troisi: bigger picture more important for Socceroos
Kruse: Socceroos chasing complete performance
CONSISTENCY THE KEY FOR CAHILL
"The main thing for me is professionalism,' Cahill told www.socceroos.com.au
"As an athlete you've got certain goals and parameters you want to live up to as a footballer.
"I think I've been around the game long enough to know the levels of the game and what I need to do and where I need to be.
"I'm still playing consistently and that's the biggest thing.
"The reason I'm still here and I've been around forever in the top clubs is because I consistently produce on and off the park," he said.
🙌🏽💙⚽️🇦🇺 @NBFootball #Focused #FEARLESS pic.twitter.com/LI8OeSVflp

— TIM CAHILL (@Tim_Cahill) June 23, 2017
A DOZEN YEARS OF DEDICATED SERVICE
Cahill debuted for the Caltex Socceroos as a 24-year-old substitute against South Africa in 2004.
Since then, he's been a fixture in the side, attending three World Cups and scoring an Australian record 48 goals.
Only goalkeeper Mark Schwarzer (109) has appeared more often for the Caltex Socceroos.
And with so much experience, it's inevitable Cahill has now become a mentor to the younger members of the squad, a role he relishes.
"Always," he declared.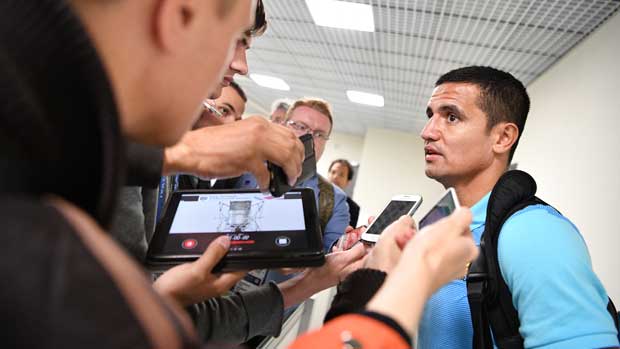 "My job is always to encourage the boys, be around them and show them where the danger areas are to score, give them the information for games and do extra things like that.
"For Maclaren, Juric, Rogic and Mooy, it's just about playing games now.
"The more games these guys can play at the highest level domestically and internationally, the more they'll get their chance to shine.
"But it's also about being consistent," he added.
Tim Cahill set to play his 100th international for @Socceroos (99th A international) - map his 99 games to date => https://t.co/I0YjM5fg8Z pic.twitter.com/7Ohj7yDJob

— andrew howe (@AndyHowe_statto) June 22, 2017
NOWHERE I'D RATHER BE
But any thoughts of an easy ride for the oldest player in the Australian squad have been quickly consigned to the trash can.
"This camp is not for the faint-hearted," smiled Cahill.
"The environment is awesome and very relaxed but when it comes down to competitiveness and competing to be a part of the group, everyone has to be at a professional level that can reflect what we do on the pitch.
🙌🏽💙⚽️🇦🇺 pic.twitter.com/MSpoy0VKYr

— TIM CAHILL (@Tim_Cahill) June 22, 2017
"That helps the young guys understand the levels they need to leave camp with and come back in with.
"This regime is 24/7 – even when we leave here, we're being monitored; we have to put in our data. 
"But once the kids come here, they don't want to be anywhere else.
"I'm pretty sure anyone who is not here today wishes they were," said Cahill.
This article was originally published at: http://www.socceroos.com.au/article/tim-cahill-on-cusp-of-amazing-caltex-socceroos-milestone/1gi0kwye618921eo62fdhehmse.