Speaking on Thursday as the club accepted the FFA's punishment for unruly fan behaviour, Tsatsimas said he was disappointed with the sanctions but says the club will work to weed out the trouble makers.
And he called on fans to call out the troublemakers on the terraces. 
The governing body found the Wanderers guilty of bringing the game into disrepute for their behaviour in the away game against Melbourne Victory last weekend, slapping them with a $50,000 fine and a suspended three competition point penalty.
Gallop: 'true fans' can help eradicate troublemakers
Wanderers accept FFA sanction, slam troublemakers
A clearly frustrated Tsatsimas said: "I appeal to those who have conducted themselves questionably to comply and behave as you would in any other part of society. 
"For those who will not comply, do not come back. You are not welcome. 
"Stop using our club as a promotional vehicle for your own purposes. You are not wanted and never will be.
"For the rest of our fans in the vicinity of the errant behaviour, please do not encourage this. Let them know as a collective that you find this unacceptable as a fellow football fan.
"We do not want cowards who let of flares and hide behind anonymity. There is an expected mode of behaviour that needs to be displayed on match days. 
"We don't want this to happen again."
Tsatsimas added coach Tony Popovic is disappointed the club is embroiled in this situation but is confident it won't affect their performances and results on the pitch.
The Wanderers currently lead the Hyundai A-League and are in the box seat to claim the Premiership with just a third of the season left.
"We're disappointed because it puts an added pressure on that we don't need," Tsatsimas said.
"The players are the ones that are bearing the consequences of this not the ones that should be accountable.
"But we are the club and we need to take it on board and deal with it appropriately.
"Obviously there's an issue there in away games against particular opponents and we need to be continually working toward making sure we have the optimum level of security and match-day operations to protect against this type of behaviour," the Wanderers chief added.
Tsatsimas says he expects Wanderers members to call-out the trouble-makers at matches, with self-policing a key weapon in stamping out the boorish behaviour.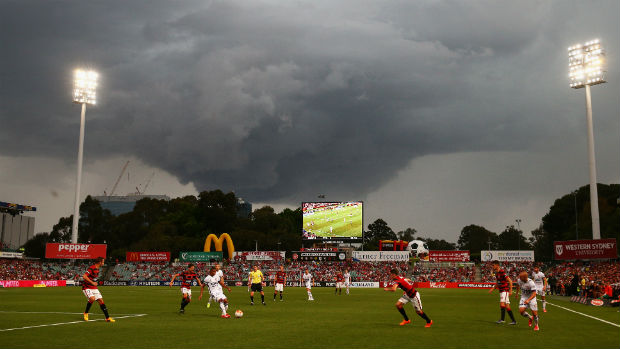 "We need to get into people's minds that this kind of behaviour from patrons two or three seats away…is not acceptable and needs to be to be self-policed.
"Go to a security guard or police office and tell them there's an issue. If we start doing that we can go a long way to stamping this out," he said.
Asked if he was concerned about encountering any further trouble, with a likely sold-out Sydney Derby to come on February 20, Tsatsimas said: "I don't think it should be a case of 40,000 fans going against each other, it should be a celebration of football.
"It's two teams taking part on the pitch, they'll both be supporting their teams, it's not about going against each.
"This is the mindset we have to eradicate. It's a collective celebration of football at the derby, it's going to be a great game and I don't anticipate any problems."
This article was originally published at: http://www.a-league.com.au/article/western-sydney-wanderers-ceo-john-tsatsimas-slams-flare-lighters-as-cowards/ubmmcfe3meax15bjps34y7r7j.